Page 2 of 2 •
1, 2
Raikou wrote:

ImmortalVulcan wrote:or instead if possible maybe offset the guardian circle and/or have a white circle on either side for each players bind zone
im thinking this is much harder to implement than i think it is but its just an idea

Like this ?

I also suggest someone make a better playmat with original circle, original card backs with cardfight forever's emblem

-pokes Kira- do it if you read this (O_O)
The epic people on this mats are just xD
Rai, i think the guard zone should be where it normally is though, this is confusing o.o

Darkness_Devour




Posts

: 7


Join date

: 2013-01-07


Age

: 23


Location

: Zagreb, Croatia



ImmortalVulcan wrote:or instead if possible maybe offset the guardian circle and/or have a white circle on either side for each players bind zone
im thinking this is much harder to implement than i think it is but its just an idea
Like this ?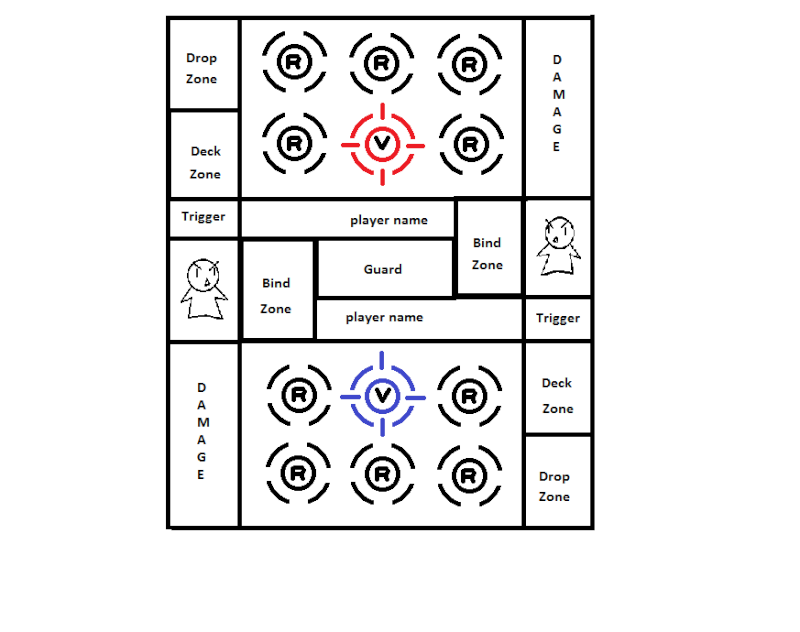 (I know it's terrible, I use paint , I could use photoshop but using bushiroad's circles and boxes would lead to another copyright problem)
that player name between guardian circle(box) is just suggestion
About the bind zone, I'm sure the coder can make it facedown when we put card to the bind zone (the rest would depend on how the game screen look like, either they make it like CardCapital where you could ctrl click any card to see detail the coder can make the card inaccessible through ctrl click, or they decide to make it like dueling network's card detail where there's extra box on the left side of playmat for bigger card image and card text)
I also suggest someone make a better playmat with original circle, original card backs with cardfight forever's emblem
-pokes Kira- do it if you read this (O_O)

Raikou




Posts

: 23


Join date

: 2013-01-08



or instead if possible maybe offset the guardian circle and/or have a white circle on either side for each players bind zone
im thinking this is much harder to implement than i think it is but its just an idea

ImmortalVulcan




Posts

: 12


Join date

: 2013-01-05



That would probably be better left off-screen with a window you could access to see it.

3XXXDDD




Posts

: 5


Join date

: 2013-01-06



I think that a bind zone be added for some on the cards with an effect that binds them

Knightmare91




Posts

: 45


Join date

: 2013-01-06


Age

: 28


Location

: Ontario, Canada



http: // sphotos-g.ak.fbcdn.net/hphotos-ak-snc7/1175_410395212372920_682750624_n.jpg

In case you didn't have a mat image or weren't planning on making your own.

3XXXDDD




Posts

: 5


Join date

: 2013-01-06



Page 2 of 2 •
1, 2
Similar topics
---
Permissions in this forum:
You
cannot
reply to topics in this forum